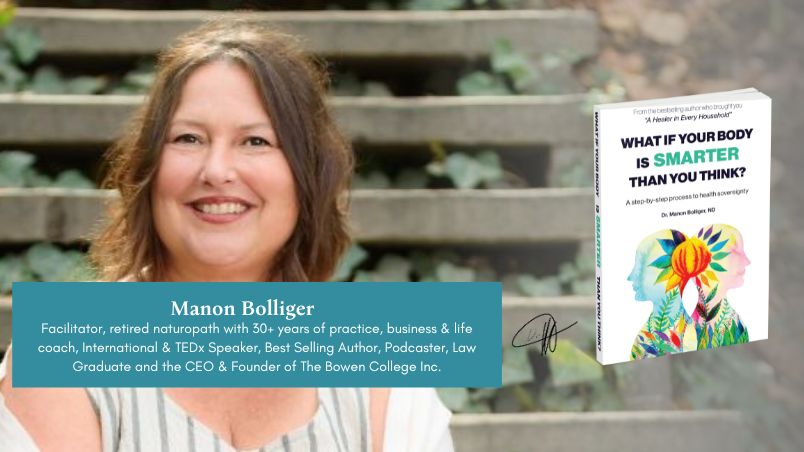 "

What If Your Body Is Smarter Than You Think?

"
  A step-by-step process to health sovereignty
My TEDx Talk – January 2021 in Tenya Paseo, Las Vegas
I gave my TEDx talk January 2021 in Las Vegas and have been waiting to find out why it never got published on YouTube.  Now we have some answers. It's all about the one narrative when it comes to our health and the suppression of information that can empower people. These are indeed strange times.
What I have decided to do is to turn the premise of my TEDx talk into a full-fledged book and since I actually liked the title of the TEDx talk, I am now calling my book What If Your Body is Smarter than You Think instead of Your Body is Speaking, Why Aren't You Listening?
Here are a few short clips, taken by an observer during the actual day of the TEDx talk. Unfortunately, I cannot give you access to the entire talk since it goes against TEDx policy.
Innate Healing Intelligence
After purchase on amazon, while waiting for your book to arrive,
come back here

, fill in this form and enjoy these Free Bonuses: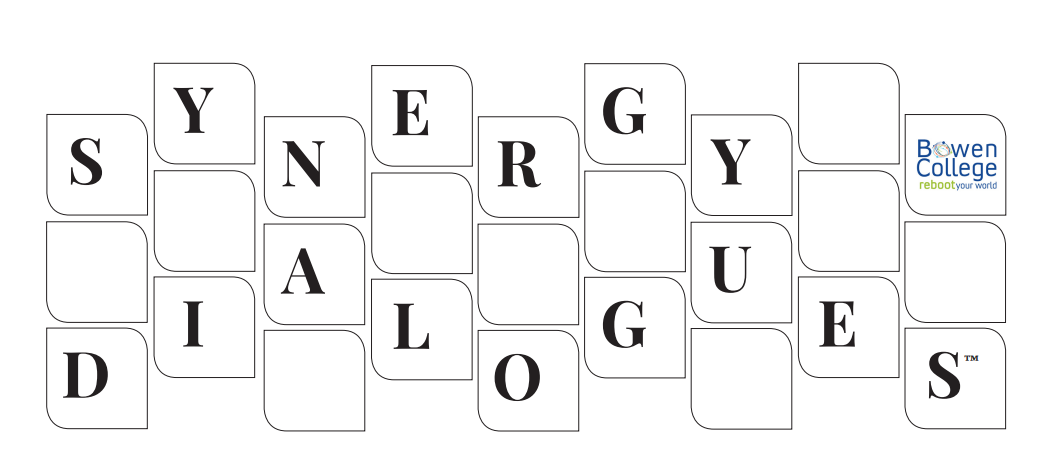 Synergy Dialogue
It is a process of clearing your senses in every meaning of the word. In this mini book, I have included a brief overview of each aspect of CLEAR SENSES.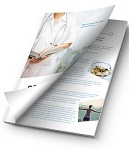 Prosperity Checklist
Free Resource Guide for Healthcare Professionals & Holistic Practitioners – How to have your cake and eat it too…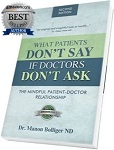 Dr M's best selling book What Patients Don't Say if Doctors Don't Ask: The Mindful Patient-Doctor Relationship

"Dr Manon is a force of nature and a powerful communicator. This book speaks to the power of our inner wisdom and our innate healing capacity. Healing, like storytelling, has the power to rewrite our future. Her perspective is well thought out and so inspiring. This is a must read and will certainly change your view and offer hope, on how to live a vibrant life in spite of illness, adversity and pain. "
Dr. Manon Bolliger, ND is a collaborative pioneer of the take back your health movement, making a compelling case for bringing holistic sustainable values back into our hands. She demonstrates how fighting the body will always fail as the body is programmed to heal. Her vision of two hands and one big heart is the basis of how women around the world can have an impact not only on their families but on their communities.
"There is an ancient way of yielding leadership in health that is ripe for our time- and that is A healer in every household. Dr. Manon Bolliger has gifted us with, not only ideas, but a deep heart-felt transmission as to how to move ourselves, our family, and our teams into a cohesive, integrated and aligned way of positive change and evolution."
"Dr. Manon Bolliger, ND is the ultimate healer of healers. Her heart is completely dedicated to her patients, students, and readers. She brings a pure and committed love to the programs, workshops, and retreats she creates for people who are ready to transform their lives. More importantly, she believes that the body is programmed to heal and we have the power to truly assist it. As you read this book, you'll feel her belief in you so strongly that you won't be able to help but believe in yourself, too."
"Dr. Manon speaks about the correlation between our mind, body and emotions, in relation to our overall health.
As a former oncology nurse, I loved reading her many facts and stories, pertaining to a holistic approach being the most effective.
How the holistic approaches she describes, can achieve overall wellness.
Thank you Dr. Manon for this very important book to help lead us to wellness!"
This book contains a hands-on approach to improving your overall well-being. Dr. Manon's clear explanations and practical techniques guide the reader through the process of understanding the body language and tapping into its natural healing power.
An absolute must-read for patients, health practitioners and everyone interested in their own health.
"Dr Manon's dream of having a Healer in Every Household is an inspired vision for a better world. One where the individual deeply listens to their body and seeks treatment and therapy that is holistic and aligned with the greatest overall outcome, not just standard accepted therapeutic practice. This is an inclusive, not exclusive view bringing together healthcare providers in a global healing movement, and one that I fully support. My favourite quote is "The body never lies. It always points out what it needs for deep permanent healing." She is a true inspiration to many, and her work is leaving an ongoing Legacy!"
Your body is speaking- Are you Listening" is a perfect blend of rock-solid health advice, spiritual philosophy, and personal experience woven into a practical formula for a taking back your health and living your life to the fullest. In a well-researched and easy-to-use guide that you'll want to keep at your fingertips, Dr. Manon draws upon her experience of being in practice for 30 years to give new meaning to one of life's most fundamental questions—how do we honor our inner knowing, our deepest trusted advisor to guide us to the root cause of what ails us. I recommend this book to everyone who is ready to unleash their body's potential without compromising their personal integrity to do so!
A Healer in every household a tribute to Dr. Manon Bolliger's great wisdom in supporting people to impact the world both in who they are and by what they do. Dr Manon Bolliger is a modern-day influencer and an amazing teacher. I've watched her light the spark of self-transformation in all those she reaches. She is a master at helping people see the patterns that keep them from moving forward to a happy, healthy, impactful life."
"Dr. Manon is a leader in her field, with such an in-depth and insightful view of the human body and how it heals.  She describes concepts that naturopathic doctors and holistic health professionals both know innately from countless experiences and anecdotes from patients, as well as those proven time and again with evidence.  Dr. Manon's diverse background is apparent in her approach, and having had a similar academic and career shift where I gained experience in the legal arena, she so eloquently describes what so many of us have witnessed or experienced first-hand.
Dr. Manon opens our eyes to an understanding and perspective that is needed in order to understand the full scope of healing available to human beings."  
"Dr Manon Bolliger shares the deep meaning of truly listening to the wisdom of the body. Her book "Your Body is Speaking" takes us on a journey to ourselves and the magnificent ability we have to heal." 
"My husband is a living testimony of Dr. Manon. He had a severe motorcycle accident and suffers from chronic and neck pain. One session with Dr. Manon and he felt relief from pain the very same day. Thank you, Dr. Manon, for your healing touch."

"Dr. Manon Bolliger, ND is helping to redefine the very nature of what it means to be healthy. She's helped tens of thousands of patients in transforming their health and embracing their lives. Now, she's here to help you. With clarity, vulnerability, and practical strategies that are tested and proven, Dr. Manon will inspire you down the path to the life you deserve. Yes, you CAN have an inspired life, have the health you deserve, and make a positive contribution on the planet. Dr. Manon will show you how. If you want to do yourself the biggest favor ever, read this book."
"A must read! The insights in this cutting-edge book are a refreshing take on how we create real impact for our families. Dr. Manon Bolliger has a beautiful blend of practical steps and inspiring principles that merge to create a powerful new roadmap to self-care that supports anyone wanting to create positive influence and self-reliance in the world."
"I have long believed in the efficacy and power of natural health. This book is a game changer for anyone looking to empower themselves with tools that actually work and take control of their own health and wellness."
"Dr. Bolliger has written an amazing and powerful book about her passion – Listening to your body. Her approach is holistic and easy to understand. It complements all that I have been medically taught and she speaks to my favorite mantra "let the body heal itself".  I would strongly recommend this book to anyone for their journey to wellness. Thank you Dr. Bolliger for your wisdom and insights."
"I often speak about the miracle of life that has been gifted to us and why with eternal gratitude we must cherish and take care of ourselves to live a most fulfilling life. 
Dr. Manon Bolliger demonstrates how perfect health is a balance between body, mind, spirit and social well-being. The book, "Your body is speaking, are you listening?", empowers the readers to take ownership of their own health and well-being instead of completely relying on traditional medicine to measure, validate and stay healthy.
Dr. Bolliger explains that it is important to love and completely trust our bodies and to be aware of even the most subtle cues to nurture it for sustained optimal health. Even the slightest physical or emotional stresses that continue unchecked (because we are strong and have more pressing priorities) will overtime have an increasingly detrimental impact on our system until one day it has wrecked enough damage that the pain is unbearable. While traditional medicine plays a crucial role it cannot catch "disease-in-the-making". It can only detect full blown pathology based on its "avatar of sickness". Even then medication is often used to remove the symptoms and not treat the underlying causes that involve the full lifestyle which is outside the scope of traditional medicine. In fact this may be more detrimental than no treatment at all, "like turning off the ringing fire alarm with a sigh of relief that the problem is resolved – while the building burns down around you.
The book goes on to show how we can go back and treat the original causes and consequences of not listening to our bodies earlier. A highly recommend read".